Fly Fishing Mastery
Mastering the art of fly fishing; not only mastering casting and fishing techniques, equally important are how you conduct and your ethics.
A fly fishing master has a special bond to nature and his sport, acting as a steward of the environment.



World wide destinations(click)

Norway

Our angling guides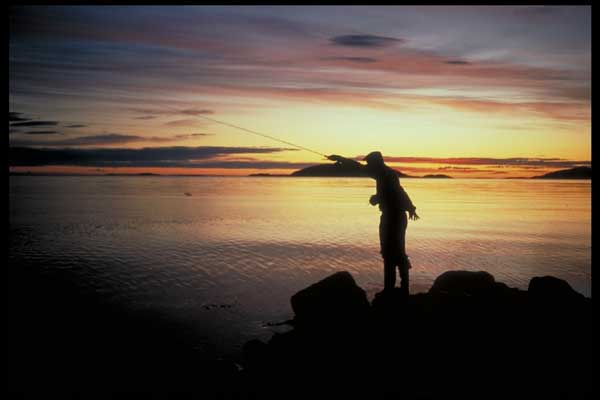 Salmon and seatrout
Sugustad, River Orkla: The Sugustad beat in river Orkla offer exclusive angling in a 300m long classic salmon pool.
Aa-valdet, River Orkla: Good fly fishing on 900m, self-catering and accommodation for 6.
Hembre, River Stjørdal : The Hembre beat, offer exclusive fishing and excellent accommodation. This beat often represent 10% of this rivers total catches. Excellent fly fishing.
River Beiar and River Saltdal : These two rivers offers big sea-trout and occasional salmon. Excellent fly fishing.


Patrick Daniëls, Belgium, magnificent salmon, caught when visiting Skaidi Fjellstue river Repparfjord in the beginning of July 2007.
Brown-trout, grayling and char
River Rena : The trout and grayling grow faster and bigger here than any other river in Europe! Massive hatches of caddis, stoneflies and mayflies. A fly fisherman's paradise.


Kvennan Fly Fishing, River Glomma: Only fly fishing, for big grayling and trout on dry fly. Guide for the best experience. Bag limit.
River Trysil : A fly fisherman's river. Big grayling on dry fly, although good catches have been done by using deeply fished nymphs.
River Folla : Magnificent fly fishing river by the foot of the massive mountain area Rondane. Excellent grayling fishing.
River Maze: Superb action for big trout and grayling in the wilderness.
River Otta: Sight able, cruising trout in unbeatable landscape.
River Mistra : A wild river and chances of big trout on fly. Here you can experience the most exciting wilderness area in this part of Norway.
Galtsrømmen, upper River Trysil : A popular area, but there are times this water can be fished in solitude; Excellent brown trout and grayling on fly only.
River Glomma : A good river for fly fishing the whole year. We have caught grayling on dry fly in the end of November and started the season with catches on dry fly in March! Wherever you fish in this river, the chances are good for great fishing. You experience excellent fly fishing when hiring one of our guides.

Destination map!


Big Pike
Lake Femund : Fishing using belly-boats, big pike on a fly rod!
County Engerdal : Fishing small lakes and streams, excellent spinning and fly fishing. A "popper" is the favourite for fly fishermen.
County Solør : Small wilderness streams and lakes with undisturbed fishing for big pike on lightweight spinning or fly
River Glomma : Really big pike on trolling, spinning, bait-fishing and fly.

Saltwater
The Oslo Fiord : sea bass and sea-trout in the spring and autumn. Fly fishing only hiring our guide.
Hitra Island : Pollock and cod on fly, fishing both from ashore and from boats.
Smøla Island : Experience sea-trout fishing in tidal streams. Very exciting fly fishing.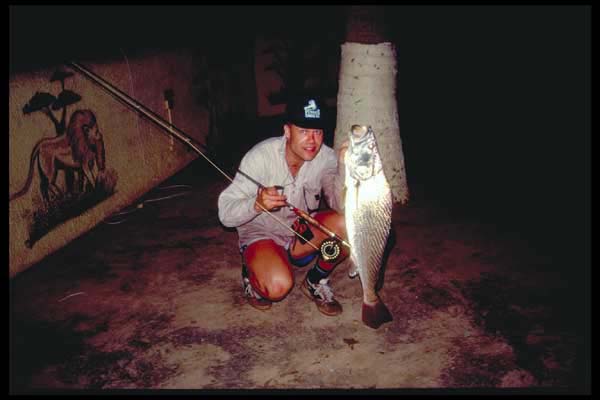 Mastery Adventurous Fly Fishing's foreign recommended destinations

River Rynda, Kola 2010
Groupe tours leaded by me to one of the best salmon experiences in the world!
Alaska Fly Fishing 2009


We are co-operating with Frontier River Guides of Alaska, to bring you to the very best fly fishing for rainbow trout, artic char, grayling and silver salmon.
Contact us for tours and rates 2009

Steelhead in British Columbia!
Providing the very best sport fishing adventures on the Skeena among other good rivers:
Westcoast Fishing Adventures
Unbeatable saltwater fly fishing destinations: Africa's east-coast
To meet our world-wide travelling customers demand of special saltwater fly fishing tours, we now proudly represent and market tours from DiveWild!
We doubt you'll find more exciting destinations and better saltwater fly fishing anywhere!
The worlds largest bonefish, trevally, permit and barracuda:
Bazaruto Archipelago
Aldabra Archipelago





Exciting saltwater fishing: Egypt!
An ideal opportunity to combine exciting fishing with your family vacation!

For inquiry or if you didn't find what you were looking for, please contact us! post@mastery.no